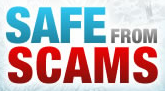 http://www.safefromscams.co.uk/
SafeFromScams was created in 2010 to offer information on how to protect yourself against scams.
The sales pitch for the site is:-
"It's a very dangerous world out there. You might lock your doors.. The scammers are everywhere. They want to part you from your hard-earned money, to steal your identity, or simply take advantage of your honesty to make a profit from others. You might be law-abiding, but they're not. There are thousands of them, in person, in business, on the phone and online – and they're growing more ingenious all the time".
They say that the site is the resource to learn about scams of all types, from the classics that are still being run regularly, like bill-padding, builders, and chain letters – which still work – to the new ones that keep appearing, things like phishing, mobile phone scams, or those fake lotteries.
The website was created seven years ago as at that time, there was no single UK resource for interesting features and practical advice on how to stay safe from scams.
They say that the features and articles are written by experts – who have experience, or a particular interest in this area.
The guy who started Safe From Scams is John Rowlinson – the owner of PtS which has software and property companies and he uses those to fund the Safe From Scams website and a number of similar sites.
The site covers a wide range of scams, including Credit Card Scams, Travel Scams, Fake Goods, Medical Scams and is a great resource for more detailed information on the various kinds of scams.,
There is also an 'Ask the Expert' feature.
Do Share this post on social media – click on the post title then scroll down to the social media share buttons.