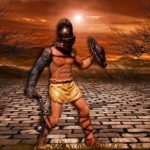 Sara ordered nearly a thousand pounds worth of window shutters  and six months later she says
"To date I have not received my shutters and I'm still trying to get my money back"
The business wouldn't return her calls or respond to her emails.
She says "the only time I get through to him is calling him from telephone numbers which he doesn't recognise. Since I placed my order he has changed his website and is trading under a new company name. He is still taking orders – and presumably money! – from customers. "
The Fightback Ninja heard what had happened and contacted Sara with an offer to publicise the story on his blog Fightback Ninja Blog and on his radio spot on Brooklands Radio.
Sara didn't reply straightaway but instead forwarded the Ninja's message to the company.
And suddenly they wanted to talk with her.
That's the power of Radio. 
Cheats want to stay hidden from the glare of publicity.
Sara says "I finally got a reply from Mr X after I forwarded Fightback Ninja's offer to do a case study on radio and the www. After learning of his circumstances, I didn't want to add to his problems.The good news is the credit card company have upheld my claim so I'm not out of pocket which makes me more inclined to draw a line under the matter".
Well done Sara (with a little help from the Fightback Ninja)
If you are scammed, don't just accept it. Do whatever you can to get the money back and stop the scammer if possible. Also you should report the scam to Action Fraud.