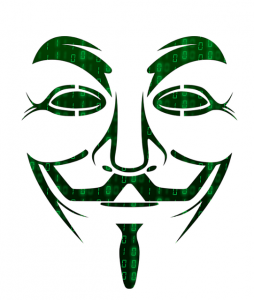 Hacktivism (a portmanteau of hack and activism) is the subversive use of computers and computer networks to promote a political agenda or a social change. Its ends are often related to the free speech, human rights and freedom of information movements.
Opinions differ as some people believe hacktivism is a growing force and will become more active and take on bigger challenges. But, others believe it is a spent force and will die away slowly over the coming years.
Mr. Robot
"Mr. Robot" is a TV series that tells the story of hacker Elliot Alderson  and his role in an anarchist collective called "fsociety," whose followers wear masks that resemble "Rich Uncle Pennybags" from the Monopoly board game. Mr Robot is now making its fourth series.
The series was inspired by a notorious computer hacker named H who has gone from trying to bring down the authorities — to working for them.
As a key member of the hacking group known as Anonymous and a founder of its elite "LulzSec" unit, Hector Monsegur helped launch cyber attacks on government and corporate targets including the US Senate, the FBI and major credit-card companies.
But when he was arrested in 2011, Monsegur — known online as "Sabu" — began secretly cooperating with an investigation that led to a wave of arrests across the US, Great Britain and Ireland.
Today, Anonymous still goes by the motto it unveiled in 2009: "We are Anonymous. We are Legion. We do not forgive. We do not forget. Expect us."
Hector Monsegur
But Monsegur, 35, says society has little to fear from the online anarchists in Guy Fawkes masks as "Anonymous is irrelevant.  "All it is now is a figment of hipsters' imagination."
Monsegur pleaded guilty to seven felonies as part of his deal with prosecutors and spent nearly eight months in Lower Manhattan's infamous Metropolitan Correctional Center before being sentenced to time served in 2014.
The following year, Monsegur, landed a job working remotely as a "white-hat hacker" for Seattle-based Rhino Security Labs, helping companies identify vulnerabilities in their computer systems.
He admits that in comparison to what he used to do before, it's not the same kind of thrill.
The article at http://www.fightbackonline.org/index.php/guidance/12-explanations/108-is-hacktivism-a-force-for-good has more information on Hacktivism.
Do leave a comment on this post – click on the post title then scroll down to leave your comment.