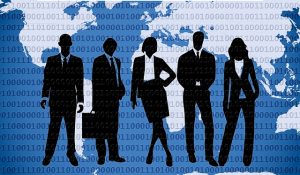 The most common business scams are:-
1.      Ransomware
This is where malware gets into your computer and encrypts some of your files. It then gives a message on screen demanding a ransom to be paid; otherwise your files will be left encrypted or deleted.
2.      Phishing / Identity Fraud
This is where you receive messages claiming to be from someone trustworthy or in authority such as your bank or HMRC or the local council or even Marks and Spencer or Tesco etc. The message is to get you to divulge confidential information – whether by return email or by clicking on a link which takes you to what appears to be a valid website but was created by the scammers.
3.      Email Spoofing
Some scammers are able to 'spoof' email addresses i.e. make it appear that an email has come from who they say.  This can lead to you trusting the email, so this is dangerous.
4.      Tech Support virus scam
This is a very common scam where the caller claims they are calling from Microsoft or your Internet broadband supplier or IT department and tells you that you have a virus on your computer. The caller goes on to take control of your computer, convince you there is a major problem and charge you for removing that non-existent problem.
5.      Online Purchases – Fake invoices
You select and pay for an item online but it never arrives. Or you receive an invoice for goods delivered but it's fake and there hasn't been a delivery.
6.      Online Reputation Damage
The reputation of any organisation is important and some scammers try to make money by damaging or threatening to damage that reputation through fake reviews, social media comments and negative feedback.
7.      Advertising and Directories
These scams involve email or calls about updating your company entry in a business directory or about discount advertising available but only for a short period. Neither is value for money.  
8.     Government Grant
Government grant scam. This scam comes in the form of a phone call, email or letter informing you that your business qualifies for a government grant. In order to receive the grant, you must first send a processing or delivery fee, usually via Western Union or similar wire transfer.
9.      Fake Cheques
The fake cheque scam is either simply that you receive a fake cheque in payment for goods or a fake cheque that is an overpayment. The scammer then calls and asks for the over payment to be refunded. Many people don't realise that after 5 working days the money from the cheque will be in your account but for two further working days it is possible the bank will withdraw that money if the cheque bounces. If someone overpays by cheque you need to wait 7 working days before issuing a refund.
10.  Unsolicited Goods
A delivery of goods is received and an invoice. All seems in order so the invoice is paid. Them it is realised that the person the goods are supposedly for did not order them. You have paid (probably much over the odds) for items you didn't order.
Do enter your email address and click on the subscribe button on top right to keep up to date with new posts.