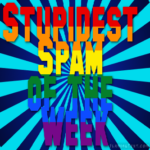 So, what's the dumbest scam or spam on the Internet this week?
An email showing photos and details of a 10 night Caribbean cruise in St Maarten.  Copied from a travel agency website I assume.
But the email address it's from is mailer.wholenessyoga,com. Obviously nothing to do with cruises   and none of the links in the message work.
Pointless rubbish.