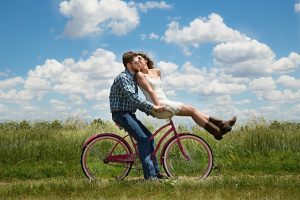 Romance scams are someone is seeking a partner in romance on dating websites, social media or elsewhere are conned into believing that someone online is the right person for them, but that person is a scammer who has created a fake profile etc. in order to entice people and this in time leads to fraud.
For some scammers this is a long term game they play for fun and money and for some it's a large scale operation carried out on an industrial scale where they respond to large numbers of men and women and in time reduce that to the most promising victims.
These scams have been around for a very long time and were common 20 years ago and more in the classified  section of magazines and newspapers.
Nowadays, the scammers target their victims mostly through social media and dating sites.
They create the perfect match using pictures copied from the Internet of unsuspecting individuals, adding fake profiles and interests etc and responding to large numbers of men and women.
Scammers create fake online profiles designed to lure you in victims. They use fake names, borrowed photos of someone attractive and a fake back story – all designed to appeal to you.  Quite often, they use a story of a military or ex military person and generally the fake person works overseas – to provide a reason why they cannot meet you in person.
Why Do People Fall For These Scams?
The possibility of love can make you overlook obvious danger signals. Seemingly meeting someone online who is perfect for you and has time for you, is loving and makes it clear they want you can be hard to resist. Many people who consider themselves sensible and level-headed fall for these tricks.
Scammers will put in the effort to get you to trust them – maybe through loving messages, small gifts, thoughtful reminders, personal details etc. In some cases this can go on for months.
Then they try to get money out of you.  Maybe by claiming they have been mugged and lost the months salary or something valuable was stolen or they need money to get a passport so they can visit you or to buy a permit from a corrupt official so they can leave their country.
It can be simpler though – just asking for money to do something for you or for you to set-up a joint bank account or a bank account in your country in their name which they will transfer money to.  (These accounts are then used for money laundering and the Police may arrest you when it is found out).
Warning Signs of Fake Romance 
They very quickly ask you to take the conversation off the dating site to use telephone, messaging or email instead
They ask you to wire money using a money transfer service such as Western Union. These payments are untraceable and cannot be got back
They ask you to set up a new bank account in your name or in their name or in joint names
Be careful.
`If you have fallen for any of these tricks, do let me know, by email.